Over 400 Cadets and staff from Thames Valley Wing helped the RAF celebrate its 90th anniversary in style, with a parade at RAF Halton.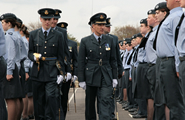 The Reviewing Officer, who inspected all 400 cadets and 30 staff on parade, was Group Captain Richard Gammage, Station Commander RAF Halton. Other VIPs included Air Commodore John Lamont from MoD Abbey Wood and the Mayors of Witney and Abingdon.
The day started with a full dress rehearsal, held indoors because of inclement weather. This practice was essential as this was the first Review parade held in the Thames Valley Wing for almost 2 decades. After a break for lunch, and a lucky break in the weather. the cadets and staff marched onto the main Recruit Training Squadron parade square at RAF Halton, in front of an audience of nearly 200 with sunshine replacing the earlier showers. The Wing Band joined the parade to provide music throughout, and four banners were paraded – the Thames Valley Wing Banner and squadron banners.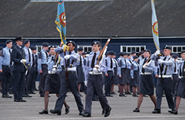 Following the inspection, Group Captain Gammage addressed the parade saying how impressed he had been with the turnout and drill at the largest ceremony to be held for some time at RAF Halton. Then, the Wing marched past the saluting base before the Wing Band gave a performance and march past.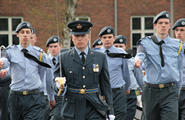 The Officer Commanding Thames Valley Wing, Wing Commander Chris Fisher, RAFVR(T), said: "I was extremely proud to be present at the 2008 Review of Thames Valley Wing. Those that attended could not have been failed to be impressed by the standard of staff and Cadets. The Review reflected great credit on our Wing. I also thank Group Captain Gammage and everyone at RAF Halton for being such excellent hosts".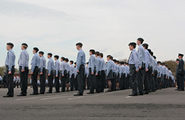 Assistant Regional Commandant for the South West, Squadron Leader John Maddox was one of the guests and said "Those that attended as onlookers could not have failed to be impressed by the deportment, bearing and military standard of both staff and Cadets – the display of foot drill was as fine as I have seen in many a year. I believe that every one was left with the clear and correct impression that there is not too much wrong with our young people of today".
Following the parade Group Captain Gammage, the parade and guests joined for refreshments.