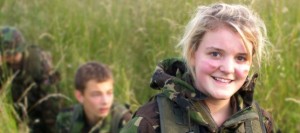 In year 8 or under 17 and ready for a challenge?
All you need to do is contact us and we'll put you on the way to becoming a cadet.
Your first few weeks will be free whilst you decide whether cadet life is for you.  After that the only cost is a small weekly subscription and additional fees for some specific activities, although a lot of what we do is provided for free.
After around four weeks you will be enrolled as a full member of your Squadron and be issued with your uniform, which is on loan and items can be replaced free of charge.  And of course, cadets can be of any nationality, race, gender or religion.
To find out more, either visit your local unit or call our Wing Headquarters today on 01235 547 990.