3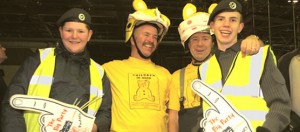 Don't have the time to spare but still want to get involved?
Many people want to get involved but don't think they have the time to spare due to work and other commitments. If this sounds familiar then don't worry, there's room for you too.
Each Squadron has a Civilian Committee which oversees the running of the Squadron, manages social events and fund raising activities. Committees meet at least once per quarter and are a vital part of the Squadron team. There are no minimum requirements for joining a committee, just lots of enthusiasm.
If you are interested in find out more please contact our Wing Headquarters on 01235 547 990 for more details.