In a shock result, cadets from 1116 (Woodley) Squadron beat 2402 (Burghfield) Sqn into 2nd place in the Thames Valley Wing Challenge.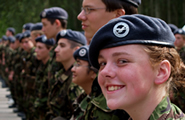 The event held over 2 days at Bramley Training Area attracted teams from 22 Squadrons. Activities on offer included a Night Exercise followed by a round robin exercise ranging from a view from the top of the High Ropes course to leadership, patrolling, orienteering, first aid and radio communications.
At the end of the event, Sqn Ldr Mark Trevena presented the awards "I was so impressed with the hard work that the cadets put in over the 2 days of fierce competition. The weekend ran very smootly thanks to the efforts of the organiser, Flt Lt Richard Andrews and his team".