Cadets from the Berkshire units of Thames Valley Wing recently showed their ability to the full by winning the top award for small bore target shooting.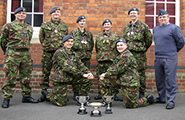 The Inter-Services and Nowell Cup competitions are held annually with teams from the Sea Cadet Corps, Army Cadet Force and Air Training Corps competing.
The Nowell Cup team comprises four firers from a single unit in Berkshire, while the Inter-Services team is made up of the top six firers from each service.
This year 2499 (Wokingham) Squadron represented the ATC in the Nowell Cup competition and retained the Cup for the third year in a row. They also contributed five of the firers for the Inter-Services competition, with the sixth team member coming from 1116 (Woodley) Squadron. This cross-Squadron succeded in winning back the trophy from the Army Cadet Force.
Cadet Corporal Chris Goodrich from 2499 (Wokingham) Squadron also won the best overall shot award for the day by gaining the highest average scores across both competitions.
Flight Lieutenant Grant Rogers, Thames Valley Wing's Shooting Officer, said of the team's successes "It's proof that hard work and discipline do pay off. It's especially pleasing that TVW did so well this year as it was our turn to play host to the competition".
Thames Valley Wing will be looking to retain both trophies next year.