The Mayor of Reading, Councilor Chris Maskell, was the guest at a parade at to celebrate the 67th Anniversary of the formation of the Air Training Corps.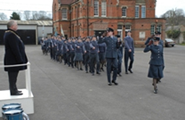 The parade, held at Brock Barracks in Reading was a major spectacle with some 80 Cadets and staff on Parade drawn from Central Area Squadrons from Henley, Reading, Woodley, Earley, Aldermaston, Burghfield, and Wallingford.
Following an inspection by The Mayor there was a short multi-faith Drum Head service conducted by Rev Mary Horwood of Burghfield St Marys. Then, the assembled cadets marched past the Mayor in review order to the beat of a lone drummer.
Following the formalities, the Mayor joined the cadets for refreshments where he gave a short speech during which he expressed his admiration for the cadets, the life skills they learn and for their service within their local communities.
Local Air Cadet spokesman, Squadron Leader Mark Trevena, was impressed with the parade "the cadets made a huge effort in working towards this parade – their hard work and dedication was in full evidence today. We also were very pleased to have the Mayor of Reading as our guest and we look forward to a return visit to see him at his chambers in the near future".