2120 (Witney) squadron recently travelled to Holland to take part in the 67th Airborne March in Arnhem. Their adventure started on Thursday, 5th September and CI Karen Goodchild provides an insight into the trip.
Cadets from 2120 (Witney), 459 (Windsor), 413 (Aldershot), 1861 (Wantage), 2407 (Yately) & (Eversley) squadrons were joined by cadets from 1407 (Newton Aycliffe) for the four day trip staying at General Winkelmann Kaserne Barracks, Harsekamp.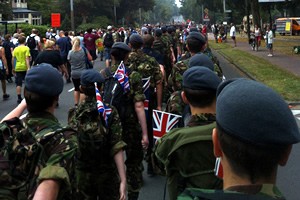 On Saturday the cadets and staff went on a Battle Field Tour, taking in various points of interest from the Battle of Arnhem including landing sights, museum and ending the visit by paying their respects at the Oosterbeek War Cemetery. It was a mix of emotions been both an extremely interesting visit with the history connected whilst been a humble part of the trip in remembering what took place here.
On Sunday the cadets took part in the Road March from Oosterbeek to Arnhem, a total distance of either 10km, 15km or 25km depending on ability. Most of the cadets on the trip managed to complete the 15km with smiles still on their faces at the end. A fantastic day with over 30,000 people taking part in the march with marching bands and a warm welcome all helping to build a great atmosphere for the day.
Sunday brought the aches and pains together and it was soon time to head home in the rain. Ears were still ringing from the children's calls for stickers and the cadets took the time to reflect on the past couple of days. A quick stop off in Belgium to pick up chocolate rations was of course essential to help in the long journey back home.
"It was an extremely memorable trip that I'm sure all who attended are keen to repeat next year – well done to all those that took part. Your excellent behaviour and high spirits made a good trip an excellent one and make me proud to be part of Thames Valley Wing Air Cadets."