A 15 person strong sports team from Thames Valley Wing notched up another fantastic performance at the inter-Wing cross country competition held recently on the outskirts of Winchester.
The 3 mile course was a demanding one for all participants as it covered a mixture of flat and hilly terrain but the biggest challenge of all were the other teams who came from all over the South West of England, the furthest travelled having come from Cornwall, the nearest from Hampshire itself.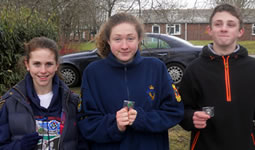 The competition itself was split into 5 separate age and gender categories and saw some amazing individual performances including Cdt Bowers from 2499 (Wokingham) Squadron who led her pack from the start and came in 3 minutes clear of the second placed competitor in order to win the junior girls race whilst Cpl Leo Lazenby of 2267 (Brize Norton) Squadron, the only Thames Valley Wing entry in the junior mens category ran a fine race and despite an injury sustained early on still managed to come in a credible 14th.
The team and individual successes of the Thames Valley contingent were as follows:
Cdt

Mcgrath

of 211 (Newbury) Squadron came 2nd in the junior boys competition

Cpl

Holly Turner of 2211 (

Bracknell

) Squadron came 2nd place in the junior woman competition

Cdt

Bowers of 2499 (Wokingham) Squadron came first in the junior girls competition
The Thames Valley team ranked 4th in the overall competition only 20pts behind first place
The junior girls ranked overall 3rd and the senior girls took 2nd place in their competition
Flight Sergeant Barry Tweddle, Wing Sports Officer said "I want to say a big thank you to Flying Officer Alex Bottoms from 1861 (Wantage ) Squadron who ably assisted and to all the cadets who attended this event which is the hardest in the sporting calendar, I am extremely proud of each and every one of you. Next year we will definitely go for GOLD."
If you are interested in cross country or any of the sports Thames Valley offers please contact the Wing Sports Officer at sport.thamesvalley@aircadets.org