What have Olympic athletes, Formula 1 teams and Network Rail have in common with Brize Norton Air Cadets?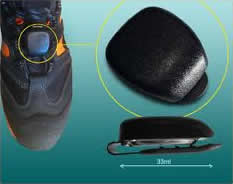 Well, Cadets from 2267 (Brize Norton) Squadron have been trialling Active Ped designed by Step Success – one of the new products from the Air Cadet Voucher Scheme – with the cadets from various project groups trying out the high-tec kit for Air Cadet magazine. The cadets were looking at how the device could be used across a number of normal activities to improve fitness including sports, adventuring training, field craft and DofE.
Cadet Sgt Lauren Kershaw liked the concept "The Step to Success presentation proved interesting in proposing new ideas to get cadets more involved around the squadron. The idea to link each squadron in a Wing and have competition between them could encourage more enthusiasm for mobile activities such as drill".
Joel Campbell, Managing Director of Step Success was on hand to brief the cadets "We get a massive kick out of working with schools and youth organisations as we see their health turning around and them understanding the importance of activity, health and nutrition and bring it all together – that gives us a great assurance in what we are doing is right and working well. We set up Step Success because we wanted to deliver more health and well being to more people. We use a very clever piece of technology that people wear to track their activity and from there we then started to build health improvement programmes. Our biggest driver is to help people to improve their life style, their health and to ultimately reduce obesity and chronic heart disease that is rising at the moment".
Summing up the event, Flt Lt Colin Burrell said "Step to Success have a very good pedometer product and the presentation on its capabilities was very well delivered to a mix of 2267 Sqn cadets and staff. The benefits of fitness are well documented and the opportunity to have a form of measurement and competition within a secure internet site with a further secure messaging service for cadets could work well".