With summer finally here, cadets & staff from Thames Valley Wing took to the water & climbing wall at Adventure Dolphin in Pangbourne for the Wing's Multiactivity Adventure Training Day. 12 cadets and 4 staff members from across the Thames Valley attended the event, with all enjoying the warm weather and sunshine!
Following an introduction into what the day would involve, the cadets were split into two groups to tackle morning's respective challenges. The first being a taxing "throw the shoe" warm up lead by CI Ollie Holman of 2402 squadron. Following this, the flights went their separate ways – an introduction to Paddlesport in open canoes or tackling 9 challenging climbing routes on the climbing wall.
With the sun shining brightly (for the first time in the 3 years of the event!), the Paddlesport group undertook a comprehensive safety briefing before taking to the River Thames' quieter mill ponds for their introduction to PaddleSport session under the supervision of FS Chris Harding, Sgt Alice Pye & CI Ollie Holman. After successfully mastering the basic principles and techniques of moving their canoes, the cadets & staff carried out a series of games to test their communication, coordination, balance and control skills – improving their confidence on the water, and their own abilities. Following this, the cadets took a short journey to explore some of the areas small islands a backwaters.
Meanwhile, at the climbing wall, under the guidance and tuition of WO Ian Lowe, Sgt Jonathon Holroyd & Cpl Rik Walsh RAF, the cadets took it in turns to climb the routes – starting with simple routes to more complex and technical overhangs. But it wasn't all about the cadets on the wall doing the climbing, the rest of the cadets provided belaying, spotting for better handholds, or helping them plan their routes.After lunch, the teams both swapped activities, giving them a second adventurous experience in the day.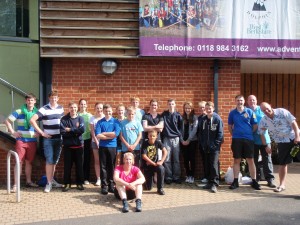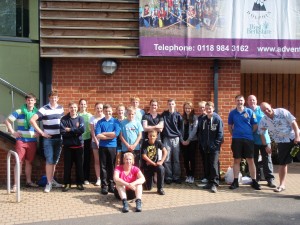 The cadets and staff all achieved their Paddlesport Start award, as well as gaining an excellent insight into 2 different adventurous training activities and working towards their "Are You On Target" objectives. FS Harding of 2402 Squadron who organised the event said "the day was highly successful, with all the cadets thoroughly enjoying themselves and giving great feedback! It was brilliant to see them experiencing new adventure training activities and setting themselves challenges – and then achieving them. I'd like to extend my thanks to the staff from across the Wing for giving up their time to provide great safe & enjoyable learning!"