211 (Newbury) Squadron reigned supreme at the Thames Valley Wing Field Weekend held at Bicester.
The activities held over the two day competition were designed to test all of the cadets skills. Together with drill, aircraft recognition, the cadets from 26 different Squadrons also had to undertake outdoor activities on the nearby Piddington Training Area such as a first aid scenario, patrol lane and a Duke of Edinburgh Award challenge.
At the end of the weekend, it emerged that the Newbury cadets had excelled at both the indoor and outdoor activities which saw them winning the Wing Field Day trophy and the highly competitive Wing Challenge Plate.
The captain of the winning team, Cadet Flight Sergeant Alex Goodman summed up the teams emotions "it is incredibly satisfying to win this trophy as the who team rose to the challenge and took on the rest of the Wing".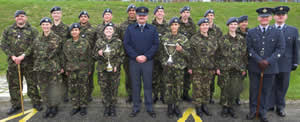 Event organiser Squadron Leader Paul Palmer was pleased with the weekend " it has been a very good weekend with lots of activities for the 220 cadets and a good result. The cadets have enjoyed what was on offer, morale has been good and lots of training objectives have been met – so yes it was a really good weekend".
Other results:
Aircraft Recognition:
Individual – Cdt Huggins, 2121 (Abingdon) Squadron
Team – 459 (Windsor) Squadron
Drill:
Banner – 381 (Reading) Squadron
Plate – 2403 (Aldermaston) Squadron
Cup – 1116 (Woodley) Squadron