Bracknell Cadets proved they were the champions at the Thames Valley Wing swimming championships held at Cowley Temple Pool.
Over 100 cadets and staff travelled to the pool on the outskirts of the City of Oxford for a day of heats, finals and relays. Following an early challenge from Brize Norton and Woodley Squadrons, Bracknell forged ahead with an invincible points trophy by the end of the competition.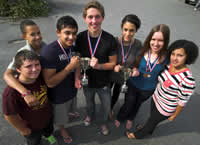 The silverwear and medals were presented by Wing Commander Chris Fisher who thanked all those who had taken part, congratulated the winners and wished those in the Wing team success at the next round where cadets from across the South West will compete.
Results:
Boys:
Junior Boys – Bracknell
Senior Boys – Woodley
Overall Boys – Bracknell
Girls:
Junior Girls – Brize Norton
Senior Girls – Woodley
Overall Girls – Brize Norton
Overall:
1st – Bracknell (75 pts)
2nd – Woodley (55 pts)
3rd – Brize Norton (51 pts)