The 2017 Wing Awards evening held at RAF Benson has recognised the service and dedication of cadets, instructors, Senior NCO's, Officers and Civilian Committee members from right across Oxfordshire and Berkshire. This year the awards were presented by Group Captain Eddie Cole, Regional Commandant (South West). A Wing spokesperson said
"Everyone who has received awards are  an inspiration to us all in Thames Valley Wing, not only for their work in the local area, but for their wider support of the local community."
Flt Lt Dan Azizian the Officer Commanding 2121 (Abingdon) Squadron, is an outstanding officer who is knowledgeable about training and who sets and maintains very high standards. Ever keen to increase his personal skillset, Flt Lt Azizian has completed numerous courses spanning the RAFAC experience, but especially in the areas of shooting and fieldcraft. In his role as Shooting Officer for Central Sector, he has organised training and live firing on multiple weapons systems and has also introduced local Clay Target shooting. In his role as Wing Deputy Fieldcraft officer, he has rejuvenated our Tactical Leadership camps.
Flt Lt Jane Wicks is currently the adjutant at 2410 (Didcot) Squadron and is an exemplary role model and she works tirelessly to provide excellent opportunities to the cadets in her charge. She has run day walks, navigational training and assessments through the NNAS scheme, has led many DofE expeditions and day walks, and has run week-long adventure training camps. Flt Lt Wicks also co-leads the Wing road marching team, completing practice marches with the cadets every weekend for 6 months and has taken part regularly in the Nijmegan marches.In all activities, Flt Lt Wicks leads with a down-to-earth manner and infectious sense of humour and this has earned her the respect of staff and cadets alike – she is an inspiration to the staff around her.
Mrs Gretel Quick is the Secretary of 2121 (Abingdon) Sqn's Civilian Committee and also spearheads the Squadron's significant fund raising efforts. She has led the committee in securing grants in excess of £4,500 to pay for gliding for 2121's cadets, and for instruments to start a squadron band. Mrs Quick has a long history of supporting 2121 Squadron having served in the mid-1990s as Officer Commanding. S he was subsequently the wing's first female wing staff officer, responsible for BTEC and was also a role model for all females in Thames Valley Wing.
WO Matt Roberts is currently the Squadron Warrant Officer at 1861(Wantage) Squadron. As training officer at 1861, he has led the delivery of high quality training and development activities for numerous years. His Squadron's banner drill team have regularly won the Wing Banner Drill competition, and they won the Corps competition in 2016. Outside the Squadron, WO Roberts has helped deliver Wing NCO development courses and also ran the Sector's ATC 75th Anniversary parade in Oxford.

Above all, his excellent standards inspire those around him.

WO Pete Davies is the Adventure Training Officer at 2121 (Abingdon) Squadron and has also led local radio activities and has instructed on Wing Courses. He is a keen aviation enthusiast and uses his experience flying microlite aircraft to help train cadets. Outside the Squadron, WO Davies is a key member of the RIAT team, having attended every year since becoming a staff member. He has also been a major driver behind the organisation and operation of our Wing-wide skill at arms training, which has been of great benefit to cadets and staff from across the Wing.
FS Steve Pedge underpins numerous activities at 2121 (Abingdon) Squadron, where he is the Squadron Shooting Officer, Fieldcraft Training Officer, and HSEP Officer. He has a no-nonsense, pragmatic approach to all RAFAC activities and can always be relied upon to go the extra mile to ensure that cadets do not miss out. but is also calm in a crisis and has helped maintain stability at his Squadron. Outside the Squadron, he has delivered Air Rifle training to Central sector for many years.
Mrs Vanessa Naworynsky is a key member of 2267 Brize Norton Squadron Civilian Committee , being part of a very busy committee raising essential funds. She not supports all events and provides governance but has for numerous years, single handedly, organised the squadron dinner, much loved by the cadets and parents year after year. Although both her son and daughter have successfully passed through the cadet system and both gone on to greater things, Vanessa continues to nurture new committee members to support the cadets.
Special Award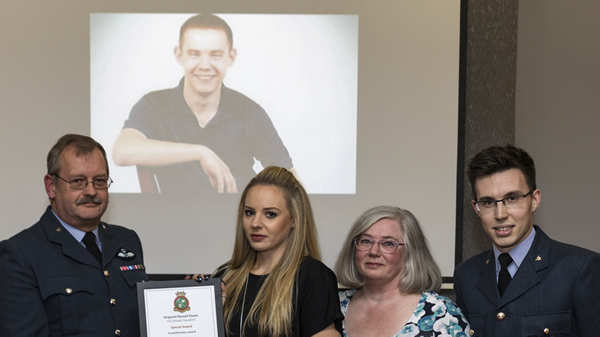 Sgt Russell Elsom of 153 (Slough) Squadron sadly passed away in June this year. He was the real backbone of the Squadron, always going above and beyond the call of duty to ensure the cadets gained the best experience possible and that the Squadron worked as well as it could. Since he sadly passed away the Squadron have realised even more how much Russell did for them at Slough, and how a lot of the work he did went unnoticed. He was so proud to be back in uniform again, and even more proud when he passed his course at RAF Cranwell. Russell would work nights and still ensure he was at the Squadron for a night shift, any activity after a night shift, if he felt he was needed he would be there. It has been a hard struggle this loss for the squadron. He is hugely missed by staff and cadets.