Thames Valley Wing of the Air Training Corps are in celebratory mood after their A Team won the best air cadet team award at the recent Royal Air Force Walking and Road Marching Association 2 day march held at Defence College of Aeronautical Engineering.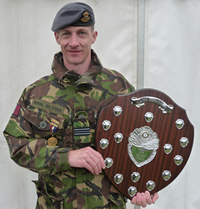 The Wing are no strangers to this achievement as it is the third time Thames Valley have picked up this award under the guidance of their coach and leader; Flight Lieutenant Karl Kisley. Speaking after the event, Flt Lt Kisley said 'this has been a good year for TVW Road Marching, coming first is by no means an easy feat up against so many other good teams, the cadets did extremely well together and have now all qualified to represent the Wing at the prestigious NIjmegan Marches in Holland in July.
Not content with a first place, the B team also had a terrific result and came third out of an estimated 70 Air Cadet Teams.
The marchers all came from units located in Oxfordshire, having been drawn from 1460 (Banbury); 2410 (Didcot) and 1861 (Wantage) Squadrons.