When 4624 (County of Oxford) Movements Squadron of the Royal Auxiliary Air Force needed a band to support the parade being held to celebrate their 30th Anniversary they turned to the Air Training Corps to provide the honours, in this case the band of 1460 (Banbury) Squadron.
The band lead by Squadron Commander Flight Lieutenant Karl Kisley provided the musical accompaniment outside the Officers Mess at RAF Brize Norton for the parade which consisted of approximately 100 personnel lead by the Officer Commanding 4624 Squadron, Wing Commander Williams.  The parade was reviewed by Honorary Air Commodore, Air Marshall Philip Sturley, who also took the time to speak to Cadet Sergeant Pallett, the Banbury Squadron drum major during the review.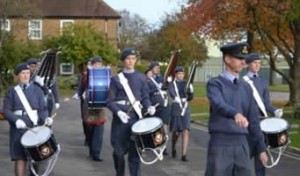 During the course of the parade a number of pieces of music were played in support of the review and march past, where they took the salute from Air Marshall Sturley and the Honorary Inspector General of the Royal Auxiliary Air Force, Air Vice Marshall The Lord Beaverbrook.
Flight Lieutenant Kisley said that he believed that the cadets did the Squadron, Thames Valley Wing and the Air Cadet Organisation proud with their turnout, professionalism and musical prowess which was complemented upon by a number of people attending. Wing Commander Williams also thanked the Squadron for assisting in making the review the success it was.