Almost 70 Cadets have marched through the streets with pride to mark the 69th Anniversary of the Air Training Corps.
The parade literally brought the town to a halt as the cadets and staff marched with banners flying through the streets of the town headed up by Parade Commander Flt Lt Fiona Wright. On reaching the town centre a salute was taken by the Mayor of Henley, Councillor Mrs Elizabeth Hodgkin and Officer Commanding Thames Valley Wing, Wg Cdr Chris Fisher.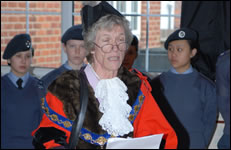 Following a short church service, the cadets once again took to the streets back to the Friday Street Headquarters where they heard the guests of honour praise their smartness, dedication and desire to have a life of "Venture, Adventure".