How do you reward a cadet for their excellent performance and turnout over a period of seven years? Simple, you give them a commercial aircraft to fly.
Actually this isn't quite as risky as it sounds as the aircraft never left the ground even though it flew a series of approaches into New York's John F Kennedy International Airport. It was the multi million pound Boeing 777 simulator located at the British Airways training centre at Heathrow Airport and was made available courtesy of the son of one of Aldermaston's CIs who is a First Officer on that aircraft type.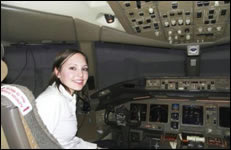 Cadet Warrant Officer Sarah Bailey who turns 20 later this year and will therefore formally cease her cadet service was initially briefed in front of a cardboard mock-up of the flight deck where the instrumentation was explained, including the location of vital elements such as the throttles and brakes. The party which included CWO Bailey's father then progressed to the simulator itself which provides a completely accurate flying experience and can be used to train pilots in a variety of scenarios from bad weather to multiple emergencies. It has also been approved to allow pilots to record training time as if they were actually flying in the real aircraft.
A series of approaches were then flown over a period of a couple of hours and included flights in a variety of conditions from flat calm to snow and crosswinds before culminating in an approach with fog and one engine failed combined.
CWO Bailey who is the youngest person to have flown the BA 777 simulator said "This was a mentally draining experience, all your concentration goes into watching the positioning red and white lights on the runway, and monitoring the cockpit instruments all the time, but it was worth it, I did 6 "perfect" landings at JFK airport, including one where I couldn't see the runway until I was at 700 ft."