Once again the mighty Thames Valley Marching Team has been in force in Holland for another year.  Training started back in January with nearly 70 cadets, who were gradually whittled down to 34 across three teams. After battling through the rain for two days at RAF Cosford's qualifying event, 12 cadets and 2 staff were selected to represent the Wing as the 2012 team for Nijmegen.
The team itself consisted of cadets from all over the Wing lead by Civilian Instructor Gill of 153 (Slough) Slough Squadron and Flying Officer Wicks of 2410 (Didcot) Squadron. This year it was agreat privilege to be a part of the team because it consisted of nine first timers and five Nijmegen veterans including myself. It was a real eye opener to some of our first timers, and still impressive for those of us returning.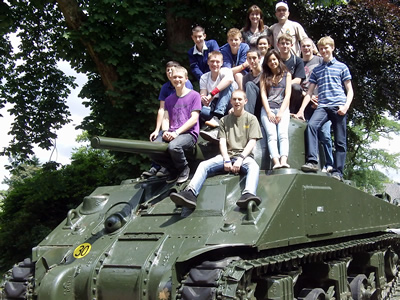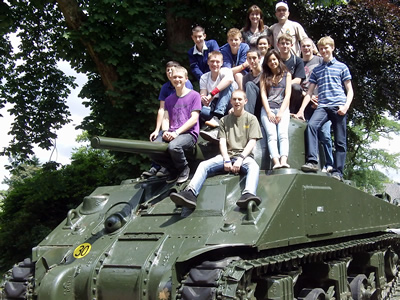 Nijmegen is by far the best activity you can do with cadets because you work closely with your friends and you train hard. This leads to other benefits such as improving your physical fitness and building on people's personalities (plus you get a nice shiny medal at the end of it!).  If there is one thing you must get used to if you ever decide to take part in Nijmegen, it is early mornings (and by that I mean 03:00 reveille and breakfast!), but that's part of the fun of it.
Before the march commenced we took a trip to Oosterbeek Military Cemetery and the Airborne Museum. This is a great day visit; Oosterbeek contains graves of some of those who fought bravely in the 'Market Garden' Arnhem landings (including two Victoria Cross winners), famously depicted in the film "A Bridge Too Far".  Here you can get a real insight and a feel for what happened and the sacrifices involved.  The Airborne Museum focuses on Operation Market Garden and includes some dioramas in its basement level.
On Tuesday morning we started the march in the early hours, to witness the sound of bagpipes echoing throughout the camp and the cheering of soldiers from all over the world. Here you start to get goosebumps because all the training and preparation you have completed suddenly becomes reality. After marching a few kilometres you begin to merge with the civilian marchers and it's like joining a massive queue during rush hour that lasts for 100 miles, but the on board entertainment of the team and crowds makes for a truly remarkable atmosphere. Around 45,000 walkers start the marches, with an eventual drop -out rate of approximately 10%.
Day three featured the 'Dutch Alps', a series of seven hills made all the more demanding by a scattering of torrential downpours and thunderstorms. You soon learn to get into your waterproofs in double time! However, for us it was a reminder of the two wet days at Cosford and we knew we had trained well enough for that.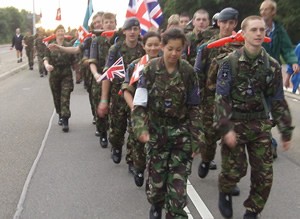 When we eventually hit day four the team was a little war-torn but prepared to fight on, we embraced the atmosphere and had a brilliant day, reaching the form-up field with time to spare and all receiving our medals to wear on the last little push, the 5km march past.  We all wore our medals with pride and marched in a massive British military group together with some of the hundreds of air and army cadets from around the UK. The crowds were huge; people sat on their roofs just to get a view. The march-past culminated in a series of bleachers with a saluting podium containing representatives from every participating nation's armed forces – a very long eyes right!
Overall this was another brilliant year for Thames Valley and a big well done to everybody in the team for completing the march.  We owe a massive thank you to Squadron Leader New who organised all the administration for TVW to enables us to take part in such an important and impressive event, and also thanks to Flying Officer Wickes and particularly to CI Gill who was the team leader this year for the first time