Cadets from Air Training Corps Squadrons across Berkshire joined their counterparts from the Army Cadet Force and the Sea Cadet Corps in Windsor for a massed parade to celebrate the 150th anniversary of the formation of the cadet movement.
Listen to the Band
In full view of the general public the parade departed Victoria Barracks to the sound of the joint cadet band and marched through Windsor, ending in a magnificent arrival through King Henry VIII gate and into Windsor castle.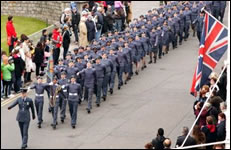 There then followed a service at St Georges chapel which is situated within the Castle grounds before the parade retraced its steps and performed an immaculate march past and salute of a number of dignitaries including the Lord Lieutenant of Berkshire The Honourable Mrs Mary Bayliss DL JP and the Governor of Windsor Castle Air Marshal Ian David Macfadyen, CB, OBE, RAF
The event ended with a group photograph of over 150 staff and cadets followed by lunch, the chance for the cadets to mingle and chat with the dignitaries and a look round display stands from the various cadet organisations.
Speaking to the staff and cadets after the parade the Lord Lieutenant said "I am extremely grateful for all the effort that has gone into making today such a success but more than that I would like to say how well the cadets have performed, being so immaculate in appearance and perfectly drilled"