On a sunny Monday,  6th May, 8 cadets from 2267 (Brize Norton) Squadron headed over to 612 VGS at Abingdon for a day of flying on the Vigilant, powered glider. Following an early start from the squadron the cadets arrived to receive their safety brief along with the weather forecast and flying program for the day. The cadets then headed out onto the airfield to start their flying sorties to try and achieve their GIC 1, 2 or 3 with the possibility of then applying for a gliding scholarship in the future.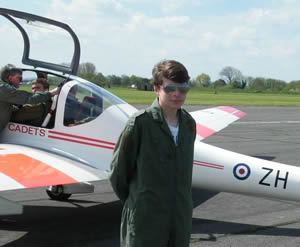 The airfield at Abingdon was busier than normal with a couple of interesting visits from a Polish Naval M-28 "Bryza" transport aircraft and a 'Siai Marchetti' made the visit to the VGS more interesting than normal and added to the airfield experience. The cadets learnt about not only the vigilant glider but also how an airfield operates and the different elements that are required to keep everyone safe in the air. For those cadets that had been gliding before it was a chance to brush up on their skills and knowledge and achieve the next level in their gliding training. All the cadets had the opportunity to fly and everyone enjoyed the amazing views as they soared through the skies above Abingdon.
With all cadets aiming to achieve their 'Airborne' element of 'Are You on Target' the gliding experience supports the learning that cadets fulfil during their classification training and with the future introduction of a flight simulator at the squadron this all adds to the cadet's experience.