2267 (Brize Norton) Squadron were recently given the opportunity to visit some of the sections on a normal working day to see all elements that sit behind running a busy RAF station.
During school half-term local cadets from 2267 (Brize Norton) Squadron ATC were taken around a variety of sections on station to see what they do and how it affects the role of the RAF.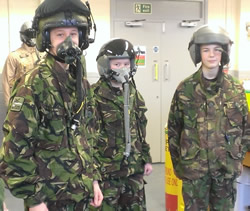 First up was a visit to Survival Equipment where the cadets got to see all the survival equipment issued to aircrew, safety equipment the RAF has capability to deliver including life rafts that the Hercules aircraft is capable of dropping to support anyone who gets into difficulty offshore.  They also got to try on helmets and oxygen systems.
Next up was a visit to XIV Squadron who train Hercules crews.  Cadets received briefings on the role of the Hercules, XIV Squadron, and Mission Preparation before getting the opportunity to fly the static simulator.
It was then off to lunch in the Joint Air Delivery Test and Evaluation Unit (JADTEU) airside.
JADTEU are responsible for determining how and what goes into or gets dispatched from aircraft; whether vehicles out to Afghanistan or troops abseiling or parachuting from all types of aircraft.  Cadets were taken on a tour of the site and got to see items currently under evaluation.
It was then a trip back across the airfield to visit 2624 R Aux AF Regiment Squadron.  Here cadets were briefed on the role of the Reserves and specifically the RAF Regiment.  The boys then got to look at a variety of weapons in use by the Squadron.
Finally they were taken to Air Traffic Control and Fire Section.  Cadets were taken around the control tower and got to watch a Typhoon that was in circuit before moving next door where they got shown around the vehicles before setting up a decontamination shower and for some deciding to try it out!!
Our thanks go to all staff who gave up time to show us around!