The former Queens Colour Squadron parade square at RAF Uxbridge once again echoed to the sound of drill commands and marching feet as cadets from Thames Valley Wing enjoyed a once in a lifetime chance to do drill on what was once the most hallowed piece of tarmac in the whole Royal Air Force.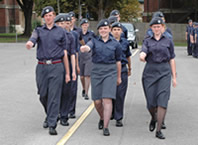 The square itself was the domain of the crack drill team of the RAF and was out of bounds to non QCS personnel but has sat empty since the team moved to RAF Northolt and RAF Uxbridge closed. A visit by cadets as part of their summer camp though proved just too tempting and, after obtaining permission from the Guard Commander the cadets marched on and proceeded to spend almost 2 hours practicing their drill movements under the watchful gaze of their senior Non Commissioned Officers.
Having completed their practice period the cadets then performed a march on into the Royal Albert Hall which had been marked out on the square in order that the QCS could prepare for major events at this important venue. The session then ended with a group photo before the cadets marched off the square at the end of what was almost certainly one of the last drill sessions ever to be held on the square.
Warrant Officer Anderson from 381 (Reading) Squadron said "this was a unique experience and one I never thought I would have. It was nice to see the old square return to old glory for one more time and I am proud to have led the cadets on this occasion".