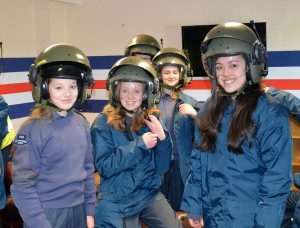 On Thursday 18 February 20 cadets from 966 (Wallingford) and 2121 (Abingdon) squadrons visited RAF Benson for the day. A programme of events which involved visiting various parts of the base had been organised to give an overall view of what makes up a modern RAF station. To start the day the cadets visited the Motor Transport section where they were shown the variety of vehicles currently in use, including their participation in the operation of a remote control grab unit for lifting heavy loads on and off of vehicles. The group then split into two groups for alternate visits to the Fire section and Air Traffic Control.  Various members of the Fire crew explained how the section worked and then took the cadets, via the quick access pole, to show them the vehicles and equipment that the fire section uses. This involved cadets being able to operate (under supervision!) the high pressure fire hoses after they had managed to dress in rather over large fireman's outfits.  Meanwhile the group at ATC were show the equipment necessary to allow the operators to control both military and civilian air traffic which operate in the region of RAF Benson. Following the groups switching around the cadets were taken to the Junior Ranks mess for lunch.
The undoubted highlight of the day was a visit after lunch to 28 sqn.  After going through the necessary safety briefings the cadets were equipped with flying helmets and taken for a 20 minute air experience flight in a Chinook helicopter. Probably the first cadets in the TVW to ride in a Chinook helicopter since their recent arrival at RAF Benson.
All in all a very successful and informative day, also helped by the excellent weather.
Finally, thanks of course should go to various members of all ranks at RAF Benson who made the visit possible both in the planning and looking after the cadets on the day.    They can be assured from the enthusiastic comments after the event their efforts were much appreciated.