In a glittering ceremony held at Reading's Madjeski Stadium, the Lord Lieutenant for Berkshire, Mrs Mary Bayliss JP, has presented awards to Cadet Flight Sergeant Daniel Honey of 381 (Reading) Squadron and Wing Staff Officer, Flt Lt Richard Andrews.
Cdt FS Daniel Honey was appointed as the Lord Lieutenant's Cadet and will accompany Mrs Bayliss on a number of high profile visits around the Royal County of Berkshire.  Daniel has been a high flying cadet at 381 (Reading) Squadron for five years and is the senior cadet on unit.  He has completed his BTEC accredited aviation training, attended RAF Camps both in the UK and in Cyprus. On the Squadron he has taken a lead in teaching the new junior cadets. He has redesigned the entire 6 month induction programme based on the corresponding training packages and has created presentations and learning plans to accompany this. Further to this, he also manages the foot drill lessons with the junior cadets, which he has now done for the last five intakes. Away from the Squadron FS Honey has helped with the Wing level Fieldcraft training, been judged the best Sports Cadet in 2011 and carried the Wing Banner at the Berkshire Diamond Jubilee parade.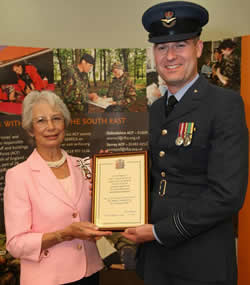 Flt Lt Andrews was presented with a Lord Lieutenant's Award for his service to Thames Valley Wing.  Flight Lieutenant Richard Andrews joined the Corps in 1988 as a cadet at 381 (Burghfield) Detached Flight. During his time as a cadet he took part in a variety of activities, rising through the ranks to Cadet Flight Sergeant being awarded the "Best All Round Cadet of the Year" on two occasions and amassing some 60 hours powered flying.
Upon leaving the ATC he joined 2624 (County of Oxford) Squadron RAuxAF (Royal Auxiliary Air Force as an RAF Regiment gunner before re-joining as a  Junior Officer at the Detached Flight.  Flt Lt Andrews became Commanding Officer in 2001, taking command of the unit he was a cadet on.
Having a keen interest in Adventure Training and the outdoors, he continues to run Duke of Edinburgh's Award training & assessment weekends and  field craft training weekends. He is a qualified Range Conducting Officer, Weapons Instructor and Full Bore Coach.
Having become a Wing Staff Officer in 2002 with and is currently the an Assistant Sector Commander for six Squadrons in the East of Berkshire and Wing Field Craft Officer.
Sector Commander, Squadron Leader Mark Trevena,  attended the ceremony said "Both Flight Lieutenant  Richard Andrews and Flight Sergeant Daniel Honey are at the top of their game and I am pleased they have been recognised by the Lord Lieutenant. In particular I am certain that Flight Sergeant Honey will have an enjoyable and rewarding year supporting the Lord Lieutenant in the Royal County".