Thames Valley Cadets have taken part in a Central London flypast to celebrate the birthday of HM The Queen.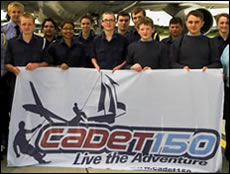 The cadets from 2267 (Brize Norton), 2120 (Witney) and 2121 (Abingdon) Squadrons flew in a Tristar, together with some 150 other cadets from the Combined Cadet Force, Sea Cadets and Army Cadets and other Air Cadets from across the UK. The flight was a key event in the ongoing Cadet 150 celebrations.
Showing his support by joining the tri-service cadets in the Departures Hall at RAF Brize Norton was the Station Commander, Air Commodore Jon Ager who was upbeat about the flight ahead for the cadets "I am lucky enough to talk from personal experience having flown in a Queens Birthday formation sortie some 4 or 5 years ago – they will fly over Central London at about 1500 feet passing Canary Wharf on their left hand side before passing down The Mall and over Buckingham Palace itself".
After taking off, the Tristar flew over RAF Marham to collect Tornado GR4 aircraft, that would be flying in close formation, before heading over the English Channel to form up the full formation of 30 Aircraft of 13 different types ranging from Spitfire to Typhoon and Lancaster to Tristar that had taken off earlier from 7 different RAF Stations.
All of the cadets on board were able to visit the busy flight deck during the flight. The pilot was Wing Commander Al Green, boss of 216 Squadron and an ex-Air Cadet who was pleased to have the cadets on board for the flight " The cadets were really impressed with what was going on and seemed to like it very much and it was good to have them onboard. The flight went really well – we got airborne about 2 hours before our on top time over the Palace. The weather wasn't absolutely brilliant – it seemed to be quite a nice day but there was plenty of low cloud around, so we had to form up a little lower than we wanted to but it went fine. We were over the Palace in the right place and the right time so it went well and we hope all the cadets enjoyed it.".
On cue the formation headed inland crossing Colchester on it's way to London for a flypast that started precisely at 1pm. Flying across Central London at a low height with a pair of Tornado GR4's for company was an amazing spectacle both from the ground and for the cadets looking out of the windows. After passing over Buckingham Palace the formation banked to the right on it's way to carry out fly pasts over RAF Northolt, RAF Halton and RAF Brize Norton, who were all holding Family Days.