The Duchess of Gloucester has officially opened the new, purpose built, headquarters for Thames Valley Wing as part of the recently completed Edward Brookes Barracks near Abingdon. The new barracks cost £4 million to build, and alongside the Air Cadets hub, also houses elements of the Territorial Army.
The site has been named after the Edward Brooks, a former Territorial Army hero, who was awarded the Victoria Cross in 1917 and many of Sgt Major Brooks' family attended the opening. His three grandchildren said they were extremely proud the barracks had been named in his honour.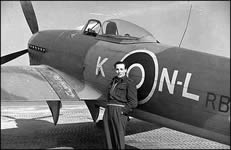 The new Wing HQ is housed in a the North-Lewis wing which is named after World War II hero Air Commodore Kit North-Lewis, who led his squadrons of rocket-firing Typhoon fighters in the fierce fighting during the Normandy campaign and the advance through Holland to Germany. Although he passed away last year at the age of 90, he knew the block was going to bear his name and was extremely proud and honoured. His family were present for the opening and were introduced to the Duchess of Gloucester by Group Captain Remlinger, South West Regional Commandant.
Later the Duchess was given a tour of the new state of the art facilities. This is not the first military experience for the Duchess, as she serves as Royal Colonel of the 7th Battalion, The Rifles. Her tour included a recruitment stand manned by cadets from 150 (City of Oxford) and 2121 (Abingdon) Squadrons who were introduced by Wing Commander Chris Fisher.