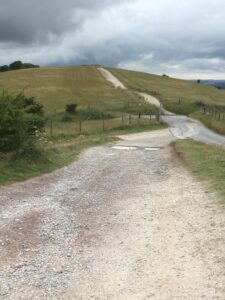 Knowing the importance a keeping active. It was on a cold autumnal morning, that a socially distanced group of Thames Valley staff gathered at the car park near Walbury Hill. At 279m above sea level this is the highest point in Berkshire. We met for a walk in the local countryside.  This was aimed at maintaining staff currency for walking in the outdoors. The area is also good territory for completing DofE expeditions.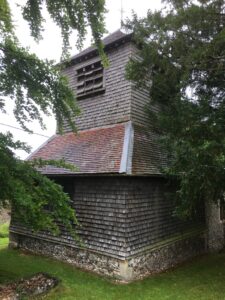 The walk started on The Ridgeway, a 5000 year old bye-way passing by Walbury hill where evidence of an Iron Age (600 BC to 50 AD) hill fort still exists.  We continued down a hillside to Combe village and its ancient  12th century Church of St Swithun. He was a celebrated 9th century Anglo-Saxon saint and bishop of Winchester. Legend says that his bones, buried at Winchester Cathedral conferred healing upon those close to them.  We pressed on through the damp morning up a narrow hillside track, cheered up by the company.  The group traversed Combe Wood stopping only to humour Mr Lowe's passion for sloes and for an alfresco lunch in a logging storage area. Suitably replenished we then crossed into Wiltshire passing Buttermere Wood to Grange Farm before returning to The Ridgeway and back towards Berkshire.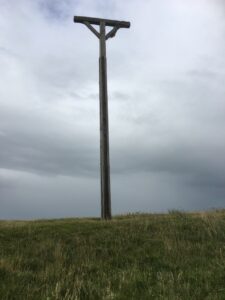 Near the end of the walk we stopped at Combe Gibbet, a foreboding reminder, to the capital penalties meted out to display the bodies of a wayward couple over 340 years ago. It was used only once but clearly that was enough, Google the story if you're interested. From Combe Gibbet there were extensive views to the North. The fresh air and good company left us feeling truly revived as we returned to the car park.