The 70th anniversary of the Battle of Britain has been commemorated in Burghfield by a parade of over 40 Air Cadets and their staff.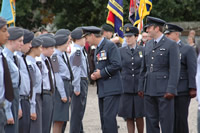 Under clearing skies the immaculately turned out parade, formed by cadets of 2402 (Burghfield), 2403 (Aldermaston) and 381 (Reading) Squadrons headed off with the Union Flag in the lead, closely followed by the banners of the Royal British Legion, the Air Cadets and the Army Cadets. After a short march the formation arrived at St Mary's church where wreaths were laid at the war memorial and also at the grave of a Battle of Britain pilot, Pilot Officer Eric Burgoyne of 19 Squadron who was killed when his Spitfire aircraft was shot down on the 27th September 1940.
Leading the act of remembrance was Air Commodore Lyall OBE MA FCMI RAF, who is currently the Assistant Commandant (Air) at the Joint Services Command & Staff College, Shrivenham. Also in attendance was Wing Commander Tozer who attended as the representative of RAF Odiham.
During his address as part of the subsequent church service, Air Commodore Lyall praised the cadets for their turn out and expressed his confidence that the young people on parade shared many of the qualities shown by their predecessors during the battle, many of whom themselves were only just out of their teenage years.
The act of remembrance concluded with the last Post, a minutes silence and the National Anthem before the Banners departed the church to the music of the Royal Air Force march.
Overall this parade was an extremely emotional event, not merely because of the sacrifice that was made 70 years ago but also because of the sacrifices that continue to be made by the men and women of today's armed forces.