Thames Valley Wing hit a milestone recently when they celebrated 20 years of Field Craft Training at Bramley Training Area. The 1,000 acre site has housed many cadet activities over the years including Wing Challenge events, DofE expeditions and Tactical Leadership Camps.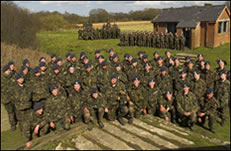 To celebrate the anniversary, almost 100 Cadets and Staff braved Autumnal showers for an exercise that tested their leadership skills to the full. Exercise Commander, Flight Lieutenant Richard Andrews and his team had a treat in store for the cadets as they had to rescue a general as well as tracking down a "crashed" Tornado Pilot and Navigator. Along the way the cadets had to manage a field headquarters and lead their teams as well using a radio communications network to direct the rescue attempts.
To hamper the efforts still further and to add further realism a "Media Team" headed up by Regional MCO, Sqn Ldr John Nicholson, asked the cadets for briefings and interviews for radio and TV.
See what the cadets got up to.