Royal Air Force blue met Army green recently when cadets from 2403 (Aldermaston) Squadron, Air Training Corps spend the day at the Army Air Corps home base at Middle Wallop in Hampshire.
The group of staff and cadets were shown the full extent of the helicopter operations of the Army Air Corps from engineering and maintenance through to armament and the methods by which the helicopters themselves are supported when operating away from their home base. As part of the visit the cadets were able to explore the lynx battlefield utility helicopter and also managed to get close up to the awesome Apache attack helicopter which made a lasting impression on the entire group.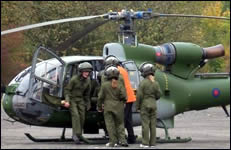 The day culminated in a series of flights over the Salisbury Plain training area in an army Gazelle helicopter with every cadet experiencing at least fifteen minutes in the air.
The visit was arranged so that the cadets could appreciate the role air power plays within the modern military operation and especially that each of the services maintains its own air arm.
Flight Lieutenant Penny Palmer who escorted the group said "I am extremely grateful to the army for opening their doors to our cadets and also for their hospitality throughout the day. This visit has been a real eye-opener and has allowed the cadets to see a different aspect to military flying".