All together with momentous spirit the village of Burghfield assembled adjacent to "The Hatch" to line up for the Parade of Remembrance.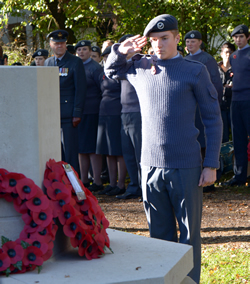 Besides 2402 Burghfield Squadron showing its full strength, the Royal British Legion, the army cadet, Scouts, Brownies and junior scouts  all assembled and marched to St Mary's church to hold a service of remembrance.
Just before the 2 minutes silence and the "Last Post" the whirring of helicopter blades cutting through the air and beating across the countryside  could be heard as the RAF Odiham Chinook hovered overhead paying tribute to all those that gave their lives for our freedom today.
Many wreaths were laid and the final salute was taken by Major John Steeds on the parade march past after the memorial service.