The staff of 612 Volunteer Gliding Squadron based at Abingdon had a productive end to the month of June by sending 18 students solo in their Vigilant T1 over six days, bringing the Squadron's total for the first six months of the year to an impressive 54.  The first 6 of the 18 were ATC cadets on weekend courses who all soloed on the same day. These solos took place on the day before the start of a continuous course which saw a further 10 ATC and CCF cadets solo over the next five days. With 'trade' running out, the staff of 612 brought in other weekend cadets and two more solos were achieved with two days of the course remaining.
These results couldn't have been achieved without the excellent support from the Serco Engineering team and the facilities at both Dalton and Dennison Barracks.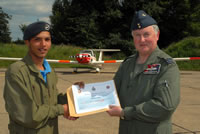 Sgt Davis of 1454 (Harrow) Squadron ATC said "I cannot believe that I am flying an aircraft before I can drive a car, its an amazing opportunity and I'm so grateful to the Air Cadets for giving me the opportunity".
Flt Lt Rose, the Squadron's Training officer, said "This a fantastic achievement for us, my staff have worked extremely hard to fulfil the ambitions of so many young people".